Kind of a Big Deal - In My Mind Anyway
Staff member
With all the wind keeping me tied to the dock (for the most part) these past few weeks, I've been looking for some relatively low-cost projects with which to occupy myself. I'm sick of mowing the lawn and various other around-the-house fun jobs, and wanted something fishing-related to take my mind off the miserable weather.
Browsing the usual suspect vendors on Ebay and AliExpress turned up some interesting new handle and knob options. After using my Tsunami Evict 2000 for a couple of seasons, I have been enamored with the round ball-type knob that this reel features, as seen here:
However, while I have found this round ball-type knob to be very comfortable, I do not care for its aluminum construction for two reasons - a bit slippery when my hands are wet and cold to the touch when the temp get into the 40-deg range. So I've been looking for something better.
Also, while I love my trusty Daiwa Zillion Coastal very much, I have come to dislike the Abu "Toro-style" handle knobs a good bit - even though that was also a custom fitment job, several years ago. I know, its all a little bit nit-picky. But I've been on the lookout for better designed knobs for both of these reels.
I've previously noted the new "Winn-type" ball knobs that Daiwa is now installing on some of their Lexa 400 reels and did give some thought to sourcing a few of those for the desired upgrades to the above reels. I just didn't care for the over-sized diameter, nor the price of OEM parts from any of the major reel builders, and so I never acted on this mini-project.
Getting back to my fishing cyber-hunting travels, whilst AliExpress perusing, I saw that one of my favorite vendors over there, EKFan tackle, had a new knob design that emulates the Daiwa Winn knobs:
Smarter Shopping, Better Living! Aliexpress.com
www.aliexpress.com
After measuring the knob diameter of the Evict, I went ahead and ordered three of the 34mm size, in blue, to match my Evict and Zillion Coastal. At $14 each, these are as cost-effective as anything else out there.
Because the carbon handle on my Zillion was configured (by me) with Abu-type knob shafts, I already knew these new knobs were a not a match for that handle. So off to see another of my fav Chinese vendors, Weihai Fishing Tackle, for one of their 100mm carbon handles, set up with Daiwa-specific knob shafts:
Smarter Shopping, Better Living! Aliexpress.com
www.aliexpress.com
At approx. $30, its a best buy - and I already have them mounted on several of my fluking reels, so I know the quality is up to snuff. Everything arrived in about 2.5 weeks, all were as ordered - which I expected to be the case, having dealt with both companies for a good amount of time.
Now long experience mounting slightly mismatched non-OEM knobs from one vendor to handles from another has taught me that there is no such thing as "direct fit," no matter what those vendors say. So I always keep a good selection of handle shims, in various thicknesses on hand. As it turns out, there was no way either of these custom upgrades were gonna work, without this shim kit. For around $8, it has saved my bacon MANY times, while modifying my reels and those of others that desire such work: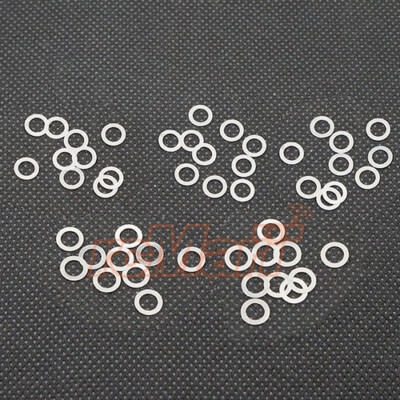 3Racing Stainless Steel 4mm Shim Spacer 0.1,0.15,0.2,0.25,0.3mm Thickness 10 pcs each #3RAC-SW04/V2. This is 3Racing Stainless Steel 4mm Shim Spacer 0.1,0.15,0.2,0.25,0.3mm Thickness 10 pcs each. 4mm Shim Spacer 0.1,0.15,0.2,0.25,0.3mm Thickness (10 pcs each thickness).
First up was the Evict - No way this handle's knob shaft was anywhere close to a Daiwa, Shimano or Abu - or anything else I've ever worked on. It had the right 7mm diameter, but was way too long - requiring an extra bearing and a bunch of varying-thickness shims, in order to get it just right, meaning free-spinning, with zero in-and-out play. "Only" a two hour job - trying out various combinations of bearings, spacers and shims. But it came out MINT. Patience has its rewards:
Perfecto!
Now on to the Zillion knob upgrade.
Despite EKFAN saying this knob would direct fit onto Daiwa-style knob shafts, nope, not even close. This was also a two hour job, with the expected repeated on/off knob fitment attempts, but it too came out great, with the inclusion of some custom Delrin bushings that I had to fabricate out of an old Abu handle. Take a look at the results:
After all this "stravazza" drama, (Italian for "crazy"), the two jobs came out as nice as any factory configuration, achieving better "grip-age," as well as not being cold to the touch on those chilly days out there. Mission Accomplished. Whew!